Alora, in painting of Leonardo Fernandez for José Morales.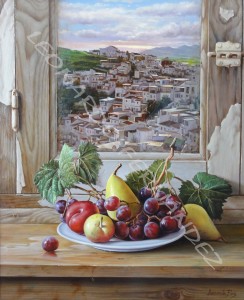 Leonardo comes –Leonardo Fernández- once again to Catalan grounds (Gallery d'art E. Arimany in Rambla Nova, 20, Tarragona) where the next end of week, of 6 on 19 May, hangs an about thirty of works inside the purest continuing style of the Malaga realistic painting of the XIX th century.
Leonardo leads to its linens, the light, the water, the transparence of the air: the life itself as, by force of seeing every day next to us, like which almost we do not throw her account, when we are immersed in this reality and, what is more, we are what we are, because it is the one that determines us and makes us feel of this one not otherwise.
Already almost a Constant is the presence of Alora in Leonardo's painting. The Malaga painter has a special feeling with these grounds of the interior of the province of Malaga. Between what it shows in grounds of Tarragona –living flowers in ceramic vases, the water that falls down of the faucet, the newly received fishing of the blue sea…- an inn says how it is Alora.
In forefront, on a plate of ceramics, grapes (muscatels and inks) escorted by pears and apples. For the frame of the window a white and unpolluted panorama of the people: white lime, brown roofs, windows that shut up intimacy and the silhouette of the belfry of the temple of the Embodiment; to the fund, distant mountains, medium-sized clouds in the blue sky and the green field.
Leonardo Fernandez is in a splendid moment of achievement. It contributes ripeness and good taste. Its work is living Malaga. They gush –in its pictures- the drops of clear water or the luminosity of the courtyard; sovereign of the detail, begins a permanent dialogue with the spectator who approaches its work.
Continuator of the nineteenth-century art and of what, in due time, they took to the linen Ocon Rivas, Moreno Carbonero, Denis… and, now, when not more the doors of the XXIst have been opened it is offered by the proper mastery whom we still surprise, every day, with something new that it does not make anybody indifferent.
Jose Morales