Carratraca: Clean saw airs for José Morales.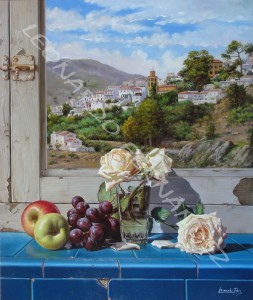 I have a doubt – well, one, no; many- but I go for another way. My question goes: does Carratraca submerge in the scenary or is it the scenary the one that appears to see the while Carratraca lime? I explain myself. Leonardo Fernandez (now we will speak about him) sends to me the photo of a picture that way of Tarragona goes for someone who loves, in excess, its people.
Leonardo, Félix Revello de Toro, Blanca…, is one of the big ones that the realistic painting of Malaga contributes a XXth century. But it is more; Leonardo takes in its linens extract of jasmines, marengas breezes, inns of life, clear water, beauties of the miniscule thing, as to the fly that settles in the rim of the table, or the faucet – always the faucet- present in its work.
This painter continues the stela marked by the teachers of the XIXth, Muñoz Degrain, Ferrándiz, Moreno Carbonero, Blanco Coris, Denis, Martinez de la Vega. One without end. But, of between all, Leonardo brings to himself, with the mastery that Carlos de Haes, did it, the extract of the scenary to the linen. That one I do not know what floats and that it comes to the soul of that for before its work.
They already do not raise procedure, way of Seville, for the creek of the Canes not in the Sale of San Antonio. It is the same scenary as Leonardo it teaches it for the dilapidated frame of a window and brings to us the clean air of the saw, the clouds that are guessed on the gray of the stone or the verdure of the garden in contrast with the whiteness of the while lime that is reflected in the walls of the people.
It is not another work any more. It is, like everything what this man takes to the linen, flavor of extract, satiated coloring of blue in the stone bench of the window, in the ripeness of the bunch of grapes, in the apples –not of sin- that invite the spectator to become entranced about the finished and quite made work. Thank you, teacher.
Jose Morales