Leonardo Fernández por Pedro J. Ortega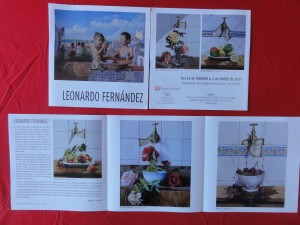 Leonardo Fernández has managed to become an universal artist, thanks to the colours of his paintings, his landscapes, his still lives, flowers and what I would call dissociate pictures, in addition to the excellent way to handle the whole water theme. At the beginning, he wasn't but a great Andalusian painter, from Malaga, if you need more clues. This is the same as to say that we were facing a great piece of art, but without reaching the height that he has now managed everywhere.
We have said many times that, in his paintings, he frequently uses the same art of Velázquez's, i.e. he brings a paint or a vision into another picture of greater size. For example, when he puts a bowl of fruit on a sill of an open window, on some brilliant tiles and through this very window, he makes us lean out and spot a classic Andalusian patio, or near a huge seashell, he shows us one of the spectacular beaches in Costa del Sol.
Another thing that never fails to surprise us is how he uses the light, the reflection he manages on the most varied objects, and above all, the marvellous effects he gets on the water. When on a canvas, a fountain or an open water tap appears, we have realised that the mesmerised observer wants to touch it, in order to see, but mainly to try to bathe in that clean stream.
Nowadays, his style is unequalled, undoubtedly because it is filled with technical skills, but especially because he masters the art of the sun and light effects on the objects; because he is a prodigy of meticulousness; because he paints the water as no one else; because of the humidity absorbed by the wood, which is pure realism; and because he is an extraordinary creator of environments.
PEDRO J. ORTEGA