Leonardo Fernandez, for J. S. Llop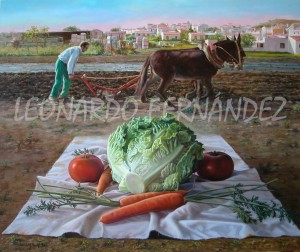 Something special covers the cloths of Leonardo Fernandez as a breeze that on them stops. It is enough to see its work to discover what is: it is the aroma of the wise and serene, deep and deep, poetical and emotional, sincere and authentic Andalusia, all this turned into painting. Leonardo Fernandez is not a poet who does, a dreamer who allows to run, never to gallop, the imagination, a painter of depths who goes beyond the mere image, a wise person expert in the precise skill to turn its emotions and visions into pictures, expert in big truth in the personalized imagining as supreme stone of touch that allows to come to the personal work. He is still a painter of challenges, of the most difficult, of the brilliant lampposts auction. It is not sufficient to describe the soft sheens of a china or of a piece silver placed in a set of elements completed by a scenery like fund or by the made out image of its adorable painters, the big Spanish teacher to him; he needs that the limpid surface returns, in reflexes game, the minimal image, like stamp of miniaturist, of the creator.
Often in its painting it produces homage to the teachers that it admires; there can appear like fund a work of its complex compositions, a portrait of Velazquez or of Picasso, demonstrating the wide fan of admirations that Leonardo Fernandez encourages. Also often it captures its ground, its native and dear Malaga, across a fee scarce elements that acquire the symbols category, as there could be a basket replete with brunches of grapes that although there are no fundamental component element, if they reflect the feelings of the artist. Or it can be a mosaic of thick Arab flavor, telling pictorially with a few surprising tactile qualities and that they do that the spectator advances the hand to leave that the eggs yolks of the fingers cover the painted with the certainty that will receive the relief of a few ceramics that really are a pure and authentic painting.
Leonardo Fernandez is a painter faculties exhibitionist; it might choose the easy way, or simplify the topics, but there chooses the opposite route and appears in each of its pictures a series of technical difficulties that the conquers and overcomes with a surprising facility, which is the difficult facility that only stays within reach of those who have been touched by the divine grace.
Exceptional drawer, spoiling each and every one of the strokes, enjoying itself in the games of soft lights and shades, deep connoisseur of the color, of the skill… Andalusian of deep roots, Leonardo Fernandez discovers to us with its paintings the beauty that shuts the daily and intimate thing up, being able to turn it in universal.
J. Llop S.