Malaga puts out the Ebro , by Joseph Morales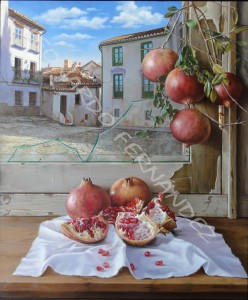 They say –and it is true- that every morning Malaga looks out of Door of the sea to the breeze that comes from the Mediterranean and, in the evenings, to the jasmines smell, in the Cove. They say- and it is true- that Malaga was smelling to salt in the quarter of the Perchel and to flavor to sweet cane when the Gualdalhorce was opening for the fertile plain and was delivering its tribute to the sea that receiving it with open arms, as delta teeny-weeny and affectionately.
But Malaga, now, becomes bigger, and goes, and one puts the Ebro out: to the Ebro? Yes. Of the hand of Leonardo Fernandez, who takes an about thirty of works, ground inside –how the breezes that come from the sea- and it takes the best of its brush and it satiated palette of colour and light.
Leonardo continues to the of Malaga school of the XIXth century. Someone would say that it is the continuity of that stream of chromatism that the teachers Ferrandiz, Moreno Carbonero, Blanco Coris –and, so many people and so many people, the left forever in the linens.
Leonardo is that and something more. It is the synthesis of the flavor to village- Alora, in this case- of the inns of sensual and provocative fruit, of the clear water that gushes for the faucet that drips and drips, as one spills the life itself, like a public announcement of geraniums and flowerpots of our ceramics; of courtyards of neighbours, of streets of Malaga wine that was, of the beauty of the quite made thing.
And as he was saying to them, now, from May 8 until 21 May, us Gallery Salduba goes away to Saragossa (Mother Vedruna, 5) and the best thing takes from here so that they taste it there. Extract of pure quarters –thoroughbreds- of a history that grace survives to painters who look what we do not see others and, also, like the one who does not want the thing, they go and say: there that stays. Thank you, teacher.
Jose Morales