Leonardo Fernandez, by Francisco Huertas Fadón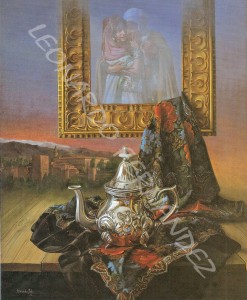 It comes from beyond, where Malaga says goodbye to the city for approaching the rowdy and cosmopolitan Torremolinos. Comes from the city prepared accommodation to its Picasso international, while you have stranded teachers that Leonardo, as so many others, gave lessons of funds, shapes, themes, qualities, lights, shadows, voices and silences, from old fabrics that expect a speedy resurrection.
Brings, Leonardo, once again, their baggage of excited work, his painstaking do, their vision of people and things, that projection which is gaining rest every day, which adds qualities, hints, experiences that continuously accumulates with the do, with good, with the job done methodical study and with the discontent that is foot of progress.
I was in Leonardo House. Sufficient study to accommodate job done, well made and framed those pictures that have played for the painter a deep sense in his work over time and with that pile of junk which always have the painters as a kind of varied collection that appears to be, rather, as a Museum of his work, of the few who always left after exposures, and that one that is like the album, then in a box.
Flowers of thousand classes and a thousand colours that they smell, and seem to have attached a drop of morning dew. A "Amor Brujo" in which, on a flowery manila shawl, shines the steel of the tea under a picture with naked woman and base of the Alhambra with eternal snow at the bottom. Leonardo pays homage in his paintings to landscapes that fit the theme and always arise at the bottom to add a whole landscape and historical depth. And old leaking faucets on fruits in a wall between chipped with the traditional piece of old socket that is like a kind of signature of the master. It pays homage to painters, teachers. His countryman Picasso, Goya, Murillo Seville or the painter, with the word, Gustavo Adolfo Becquer immortal. And even full of roses a palette, its palette of doing daily, in a kind of tribute, also, who judge each day with lights and colours, backgrounds and shapes.
And there are a still life that have life that Leonardo painted and repainted, polished and retouching, in a make speaks of perfection. And there are still lives with old shells that seem to caress with sea sounds fishing for the day and fruits with the freshness of being caught from the tree in the morning. And there are women who, Leonardo is master of the portrait and knows to leave the feminine message of the placidity of the sweetness of the charm on the canvas, in sum, the beauty.
Painting realistic, vivid, curdled light born in the shelter of a Mediterranean that is light. Mastery of colour that becomes alive, or stops playing, precisely with light. Study of the subject of the construction of the work, careful to the fullest, with care that is the fruit of the love of a profession that, for him, is everything.
With his excited loading, it comes, again, Leonardo Catalan lands, where it has a perennial date, where is known of their doing, his refined technique, the realism of his work, its subject matter varied, from the careful resolution of all work and each of his paintings, this fresh, luminous, painting as the sunrises in the Malaga and, at the same time deep as the sea that is neighbour and full of colours and lights taken from his palette of living. Welcome, artist.
Francisco Huertas Fadón
Journalist