Leonardo, sensitivity and artistic dignity by Andrés García Maldonado.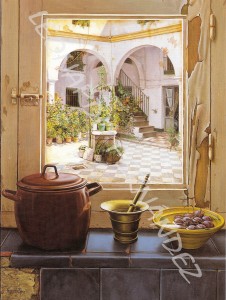 The sweetness of the child doing with not less sweet bun, a Pablo Picasso, who returns to the soul of Malaga, illuminated in blue, the portrait of Vicky expressing beauty and sentiment –which already captured by the beginning, more than thirty years-, the combined charms of girls and plums, artistic tribute to Velazquez, sport twinning with its ancient history and the intelligentsia, the Manila shawl plunging into the exquisite and sensual Nasrid Palace, its framing of fishermen taking snowflake with all its meaning sailor and social, giving life to the time impaired but beautiful ceramic and the thread of perennial old tap water, overflowing grapes the expression of the passage of time, or your renewed encounter with poetic romanticism they are nothing more than the blunt reality of the artistic and human stature of the painter Leonardo, Leonardo Fernandez.
The time has passed and fulfilling what memorable and always dear Professor Agustín Clavijo, both said he knew of Malaga and the true artistic values, and written by me there by 1976, Leonardo is since many years the painter who, soon arousing his vocation, has managed to walk the path with wisdom and permanent commitment to its to achievements and qualities, expertise that that prize and distinguishes those who are faithful to their ideas and deep feelings.
A master that is expressed in each work, the subjects choose and make unusual artistic expressions, both in the form of translating them pictorially, who with his creative personality gives an unmistakable and unique life.
Leonardo, whose career is a lesson in what is to be an artist in the unerring sense of the noble exercise of this high "office", has made clear should primarily be a person and from this quality is a surpassing stages, the artist does is definitely and consolidates, highlighting in each new work the inexhaustible reality of art, this fact starting from nothing and take me to wonderful expressions by communicators and artistic beauty and feeling.
There is his distinctive artistic personality, combine beauty and sensitivity, to support all this with a rigorous sense of responsibility that every artist must have and that few have. That respect to the singular do, typical of those who, like Leonardo, know that painting, being enjoyment and spiritual joy for those who make it, is also part of the commitment to permanent and unmistakable art with others, with the time that have lived you, which obviate or intentionally confuse those who develop artistic as a showcase of ridiculous vanity expression.
Leonardo could be easy, in the comfortable and economically productive, dedicated to delight those who applaud and support – does God know why?, as quite a few of us - to an another memo, but never dribbled par efforts that her intelligence and artistic imagination were giving the fruits which corresponded at the time which was due, without haste or impositions andstill less deception of any kind.
Thus, his work, already for so many years, is the got and commendable outcome of that lesson began learning in child that he was, when one day began to dream of being a painter, and with love and commitment, dedicated himself to it, soon recognized and making sure you would be one of the outstanding painters of the land of light and colour which is his native Malaga. This Malaga our which has continued to give exceptional painters, who, as in some other cases, has been used and deceived b how easy and repetitive, but that never, though stepmother for children itself, will no longer recognize those who are painting artists, as Leonardo, by deeds and not by other reasons.
And so, once more, and this is already the sixth, Leonardo, the malagan painter who never stops looking the Mediterranean filled this with your imagination and creativity, we have it in Catalonia as an excellent message artistic in thirty of his works.
His recent retrospective, 1937-2002, as it was, was all a blow for their land should again reiterate its appreciation, which well deserves. We are confident that this will be repeated on many occasions an opportunity arises to do so, since Leonardo and his work are part of the best Andalusian and Malaga painting of our time.
We will never stop insisting that Leonardo, in addition to being an artist, an accomplished painter, is person in the great sense of this word and, through his work, above all we observe its nobility and high human and spiritual sights. In this way, Leonardo is a person who, in the first place, put the dignity of the human being as the greatest gift we have, that distinguishes us and raises.
Andrés García Maldonado.
President of the Association of the press of Malaga.