Exhibition Of Málaga Goats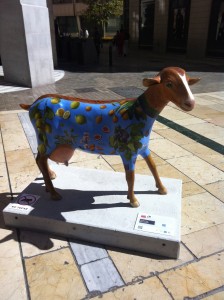 From Friday 4 and until 20 October will be on Calle Larios, an exhibition of painted by painters Malaga, Malaga goats. This exhibition is organized by newspaper South of Malaga.
Among them is a goat painted by Leonardo Fernandez Gonzalez. In it the artist has painted products of our land, Malaga, representing brand "Flavor to Malaga", which includes the gastronomic products and establishments catering as symbol of geographical identity and distinctive promotional.
In it you can see as they appear lemons, figs, grapes, avocados, etc
Then we leave you a video of the painting of this work process.
Painting the Goat / Process Painted Malaga goat from Leonardo Fernández González on Vimeo.